Intermodal shipping, also called railway shipping, has emerged in recently as an economical and environmentally-friendly alternative to truckload shipping. This type of transportation has been around for centuries, but technological advancements in the world of intermodal logistics has made intermodal shipping nearly as fast as truckload shipping. In some cases, it may even be faster than going by trucks!
If your shipments are not incredibly time-sensitive, you are seeking some cost savings, and you want to lessen your carbon footprint, shipping by train is a great option for you. On domestic intermodal moves, trains are used for the long-haul portion of the shipment, taking advantage of the efficiency of rail, while trucks are used to deliver goods to the originating intermodal terminal as well as the final destination.
Intermodal shipping uses less fuel than trucks, and therefore, has a smaller carbon footprint. Rail shipments are about three times more fuel-efficient. You can also ship your temperature-controlled product via refrigerated intermodal.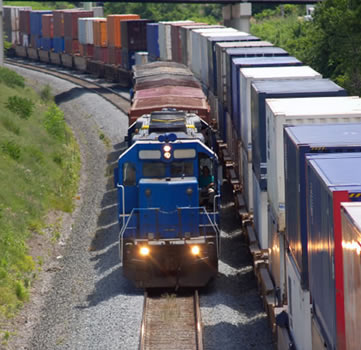 INDUSTRIES COVERED INCLUDE, BUT ARE NOT LIMITED TO…